View Original Notice ? Wilson Zaharis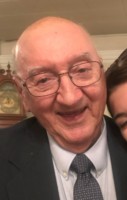 Wilson P. Zaharis, 83, of St. Clair, died Sunday April 24,
2022 at home surrounded by his family.
Born in Minersville, July 8, 1938, he was the son of the
late Peter P. and Mary Zvendrikou Zaharis.
He was a 1957 graduate of Minersville H.S. and then attended
Ford School of Business.
For 35 years Wilson was the owner of the Burger Shoppe where
he was known for his "Smiley Burger." Before owning the Burger
Shoppe, he worked as a machinist for Rockwell, Int. in Reading, PA.
Wilson served 9 years with the Pennsylvania Army National
Guard and was an active volunteer for many years with the St. Clair Ambulance.
He was a member of St Clare of Assisi Roman Catholic Church,
St. Clair, Pa
In addition to his parents he was preceded in death by 2
Grandsons, Evan and Matthew, a sister Irene Laskarithis, and 4 brothers,
Thomas, Harry, Peter, and George Zaharis.
Surviving are his wife of 61 years Mary Louise (Dantas)
Zaharis, a son William and his wife Lori of Huntsville, Al; 3 daughters
Kathleen Vaz and her husband Edward of Middleport; Kristine Renninger and her
husband Howie of Pottsville; Karen Zaharis and her companion David of
Harrisburg.  10 grandchildren, Amanda,
Cassie, Eddy, Tim, Amanda, Mickey, Andy, Kimmy, Angela and Becca, 3 great
granddaughters, Ava, Lily and Madeline.
Mass of Christian burial will be held at 7:00 Wednesday
April 27, 2022, at St Clare of Assisi RC Church, 250 East Hancock Street, St.
Clair, Pa. 17970.  The Rev. Msgr. William
F. Glosser will be officiating.  Friends
may call from 6:00 PM-700 PM Wednesday at the Church.  Interment will be held at the convenience of
the family.
Donations, in Wilson's name, may be made to St. Clare of
Assisi Memorial Fund.