View Original Notice ? Paulette Marie Delp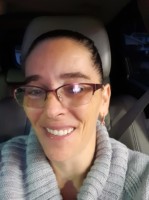 Paulette Marie (Millisock)
Delp, 50, of Pottsville, passed away unexpectedly Sunday, April 24, 2022, at LVHN-Schuylkill E.
Norwegian St., Pottsville. 
Born September 29, 1971,
in Holyoke, MA, she was a daughter of the late Paul Anthony  and
Anne Marie Traut Millisock.  She
grew up in the Reading area and attended Reading High School. She worked in
various warehouses and distribution centers, most recently for HBC at
Highridge. 
Paulette was an avid
reader, loved to bake, especially around the holidays, and canning her own jams
and jellies. She enjoyed going to the casino and local bingo fundraisers. She
crocheted for many years and was always working on a new blanket.
She loved her family fiercely and welcomed everyone with
open arms.  Her grandchildren were the
light of her life. She always said her greatest wish in life was to be
surrounded by a passel of grandchildren like the little old lady who lived in a
shoe. 
In addition to her
parents, she was preceded in death by a brother, James Vincent Wickliff Jr.;
three sisters, Paula Marie Millisock, Valentine Marie Millisock, and Juneanne
Valentin. 
She is survived by
husband, Russell D. Delp Jr., Pottsville; three children, Edward Bealer,
Pottsville, Tyler Delp, Pottsville, and Ashley Cappel, wife of Richard Cappel,
Saint Clair; grandchildren Savannah Hueston, Zander Bealer and Wyatt Cappel;
sister Kathleen Zohlman, Shillington; and a multitude of nieces, nephews and
cousins. 
            Memorial services will be held Saturday, April 30, 2022 at Noon at
Bruce T. Hart Funeral Home, 110 N. Second St., Saint Clair, Pa., 17970 with Rev. Jack Murray officiating. Friends
may call  from 12 to 2 pm  Friday, April 29, 2022, and 11:00-Noon April
30, 2022 at the funeral home.. Burial will take place immediately following at
Schuylkill Memorial Park, Schuylkill Haven. In lieu of flowers, the family
requests donations be made to the Ruth Steinert SPCA, PO Box 322 Schuylkill
Haven, PA 17972.